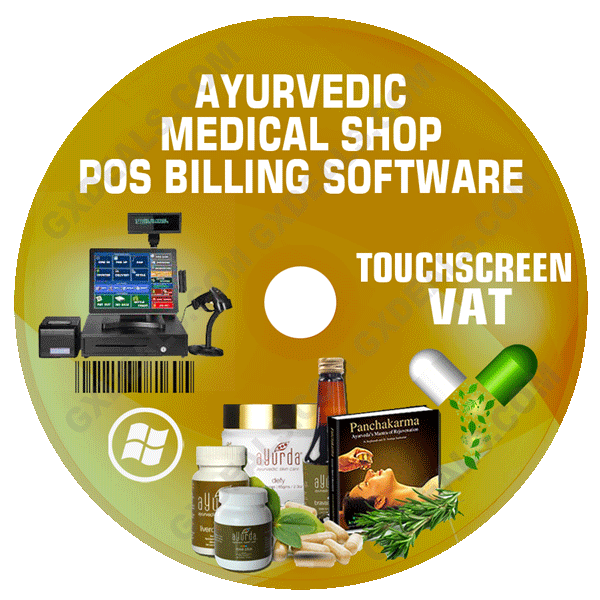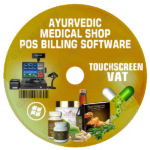 Ayurvedic Medical Shop POS Billing Software (VAT)
Billing & Accounting
Purchase Order/ Return
Barcode Scan & Printing
Supply Order
Billing & Invoicing
VAT Support
Daybook & Ledger
Database Backup and Restore
Sales , Purchase & Returns
Services & Quotations
Inventory Management
Stock Management
Bank Collection Management
Taxation Management
Credit & Debit Management
Low Stock Indicator
Life Time, Yearly & Monthly Validity Packages
Free Live & Video Training
Live Installation Support
OS Support: Only Windows 7/8/10 ( 32/64 bit)
Description
"Most Comprehensive VAT Based Ayurveda Pharmacy Billing Software Point of Sale Billing, or Ayurveda Medicine Store Inventory Software to Automate Sales, Customer Loyalty, Purchase, inventory, Accounting Managements. It helps you to Track your Available Stocks in, Stock out, Sales, Billing, Accounting and inventory with Multiple Unit and Currency...etc. You can Download Our Free Ayurvedic Medical Shop Software Today"
Ayurvedic Medical Shop Software (VAT) is a fully equipped and ideal for the Ayurveda Medical Shop Retail and distribution businesses. It enables the Shop owner/user to easily setup the item classification, product categories, (size, style, price and color), etc. This Ayurvedic and Unani Medicines Management Software tracks and keep the records and controls the flow of outwards and inwards of the Ayurveda Medicine Store. The Trading Ayurveda Medical Shop Software is easy to use and user friendly and multi-user. It shows the stock of the Ayurveda Pharmacy Store in your varied locations and tracks the flow of goods in each and every location. This Best Ayurveda Medical Shop Billing and Accounting Software Free Download. Best Free Download Ayurvedic Medical Shop Inventory Billing Software Crack, Free Download Retail Billing and Accounting Software for Ayurveda Medicine Store POS System. This VAT Based Ayurveda Pharmacy Store Inventory Software POS designed to handle all retail needs of Ayurveda Medical Shop industry in an efficient manner. Best and Cost-effective solution for Ayurveda Medicine Store Billing software help to manage stock handling, accounting, supplier and many more. Your Shop can Easily integrate to this point of sale, inventory management, Payment Collection, logistics,loyalty, and Back Office Operations etc. To make your Ayurveda Pharmacy Store Profitable even as the industry changes. This VAT Based Ayurvedic Medical Shop POS software Free Download is a full-featured Ayurveda Pharmacy Billing Software is Easy to use software ... and intelligent point of sale for Smart inventory, faster checkout, and Purchase Management, ... Use industry-standard UPC, EAN and GS1 barcode.
Modules & Features Ayurveda Pharmacy Billing Software
Barcode Scan Support
Barcode Label Printing
Purchase Return
Sales Return
Low Stock
Reorder Point
Customers Management
Services Management
Stock Management
Invoice Management
Products Management
Profit And Loss
Credit & Debit Management
Fast Sales Billing
Quotations Management
Invoice Management
Users Registration
Various Type of Reports
Services Creation
Services Billing
Profit and Loss
Creditors and Debtors
Expenditures
General DayBook
Purchase DayBook
Customer Ledger
Supplier Ledger
General Ledger
Credit Terms
Company/Shop Information
Product/Item Category
Product Sub Category
Multi Printer Settings
SMS Gateway Setting
SMS Sending - HTTP Api
SQL Server Setting
Suppliers Management
Expense Vouchers Manager
Bank Account Management
Barcode Support
Quick Services Billing
Change Password
Records Views
Salesman Ledger
Salesman Commission
Stock Management
Suppliers Payment
Quotations Creation
Stock IN and OUT
Stock Adjustment
Purchase Order
Purchase Entry
Credit Statements
Trial Balance
Overall Graphical Report
System Logs
Database Backup
Database Restore
Ayurvedic Medicine Simple Bill POS is an innovative billing software application which will help your all retail business. Ayurveda Pharmacy Billing Software Fast Billing Ayurvedic Medicine Management billing software is the advanced level India's No 1 billing application. This can run only in windows 7, Windows 8, and Windows 10 Operating Systems. Simple Point of sale billing software have very strong MySQL Database and very strong Restoring and Back up System. We have Dedicated Support Team and Customer Care from morning 9AM to Evening 9.00 PM. Easybillpos Ayurvedic Medicals Retail VAT POS Billing Software Free Download is One of the Best Advanced Level Billing Software in the Market. This Ayurvedic Medicine Billing and Accounting Software have all the features Direct sale, Bar code, Wholesale etc. SMS and Privilege Cards and all Ayurvedic Medicals Billing and Accounting Software have a very good inventory management system software have Very good user interface. This VAT Ayurvedic Medicals Billing Software have Quick sales, counter sale and POS sale all options Available and have privilege card facility offer management all Options Like buy one get one. VAT reports can create very simply from Easybillpos Ayurvedic Medicals Retail Billing Software. All the reports Includes Best Selling and Low Selling items, Less Stock items, Sales man Commission etc. Ayurveda Pharmacy Billing Software is Quick Billing Ayurvedic Medicine Accounting Software Demo & Full Version can freely download from our website or from our YouTube channel Descriptions. Ayurvedic Medicals Software is very simple billing and accounting application for all type of your retail business.
Find your Ayurveda Pharmacy Billing Software
Simple and Fast VAT Ayurvedic and Unani Medicines Retail Management POS billing software have all the advanced technology for the retail business and the Easy Bill VAT POS is very simple and Easy to use. Ayurveda Pharmacy Billing Software interface is so simple to understand, our customer care and Support team is always very active to help the customer. the Faster Ayurvedic and Unani Medicines Retail POS Billing software is also a life time software means u can download and install the software in your computer and license free without Support and Yearly Paid Support Service also Available. Now life time you can use the billing software for both retail and whole sale or any Retail Business Shop. In This VAT Easy Bill Ayurvedic and Unani Medicines Retail Software having Profit and Profit Loss Quotations Management Invoice Management SMS Sending using HTTP API, Users Registration, Change Password, Records, Customers, Suppliers, Products, Stock, Quotations, Billing Reports, Sales, Services Billing, Stock IN and Stock OUT, Creditors and Debtors, Expenditures, Purchase, Daybook Management, Expense, Vouchers Management, Services Management, Barcode Support, Barcode label printing, Billing (Products + Services), General Daybook, Supplier Ledger, Customer Ledger, General Ledger, Salesman Ledger, Salesman Commission, Credit Terms, Credit Terms Statements, Trial Balance, Barcode Support, Label Printing Module, Purchase Return module, Sales Return Module, Main Features are: Master Entries: Company Info, Contacts, SMS Setting, SQL Server Setting, Category, Sub Category, Customers Management, Suppliers Management, Products,..etc it can be used for the any shop billing software departments shop billing software retail billing software.etc